Jack Wolfskin
Jack Wolfskin is "at home outdoors"! Wherever you go, Jack Wolfskin is your reliable partner when it comes to outdoor clothing and equipment. The German company equips outdoor enthusiasts from head to toe and beyond: From functional and fashionable outdoor clothing, to suitable shoes for every outdoor adventure, to an extensive range of outdoor equipment such as backpacks, bags, luggage, tents and sleeping bags. Jack Wolfskin is driven by a passion to develop outstanding products; products that protect, keep warm and dry, and are highly comfortable in the search for experiences and peak performance.
Jack Wolfskin Online Shop at eXXpozed
Jack Wolfskin - passion for functional outdoor clothing and equipment
The Jack Wolfskin brand, founded in Frankfurt am Main in 1981, is one of the leading suppliers of first-class outdoor footwear, clothing and equipment in Europe. With its passion it presents technologically and fashionably outstanding products for lasting experiences in the great outdoors. The label with the iconic wolf's paw as logo combines innovative functionality with a stylish and attractive design.
Under the motto "at home outdoors", the manufacturer, which has been based in Idstein, Hesse, since 1997, relies on its expertise and many years of practical experience. The extensive range includes
warming and protective outerwear with jackets, sweaters, shirts and trousers,
weatherproof, comfortable and sporty outdoor or hiking shoes,
functional underwear and accessories from caps to gloves and
modern backpacks of all kinds, luggage, tents, sleeping bags and other equipment.
The Jack Wolfskin collections, which are distributed worldwide, are geared to the individual needs of customers who are mobile in all seasons. With their optimum protection from the weather and excellent wearing comfort, they are ideal for women, men, young people and children. They are considered the perfect companions on demanding alpine tours or expeditions and on hikes through the local forests. As a brand, Jack Wolfskin stands for a contemporary lifestyle in everyday life and leisure. Today, the jackets, trousers and backpacks can be found on the plateaus of Patagonia as well as on the way through the jungle of the cities.
Sophisticated technologies and innovative materials from Jack Wolfskin
From the very beginning, Jack Wolfskin has relied on his distinctive know-how and scientific research. The products offered consist of excellently processed raw materials of the highest quality. Specially developed technologies such as Texapore, for example, are used for the jackets. The windproof and breathable construction of the materials effectively transports moisture or sweat to the outside. In special variants, it guarantees protection against rain, snow and cold as required. Depending on the demands of the tour or the weather, Jack Wolfskin offers different waterproof and robust products. Thanks to the special coating or membranes, Texapore ensures the desired comfort in all weather conditions and sporting activities.
The technological development Down uses the extremely low weight and the unrivalled ability of down to store the body's heat. It insulates and keeps the cold out through the layer of air between the feathers. In the material mix, Downfiber or Fibercloud from Jack Wolfskin, for example, is ideal for filling winter jackets. Quick-drying and stable spiral fibres form the basis for Microguard. The synthetic, tightly woven fabric is used as a warming layer primarily in clothing and sleeping bags. In addition, advanced ideas such as the Air Control System (ACS) and Flexmotion improve the wearing comfort of backpacks.
Weatherproof jackets, trousers, accessories and outdoor shoes from Jack Wolfskin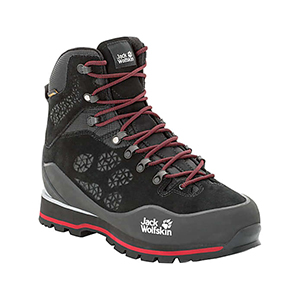 In whistling winds, pouring rain, freezing cold and snow, the Jack Wolfskin brand shows its strengths. Even under difficult conditions, clothing, shoes and equipment convince hikers and climbers around the globe. They contribute to wonderful experiences in nature and the enjoyment of unique atmospheric moments.
The range of products offered by Hessen scores with an enormous variety of excellent jackets and trousers. The patented breathable materials ensure strong performance. The functionality of the respective models, a comfortable fit and the attractive design leave nothing to be desired. With Jack Wolfskin, wind and water-repellent softshell jackets guarantee the desired freedom of movement. Permanent wetness is no problem for Hardshell. In extreme cold, down or fleece create cosy warmth. The label's robust trousers impress with user-friendly details such as pre-shaped knees, concealed zip-fly fasteners and practical back and leg pockets.
The brand has a huge range of excellent gloves, caps, functional underwear and numerous products for runners and cyclists.
With abrasion-resistant and grippy soles, Jack Wolfskin shoes defy dust, mud, snow, ice or rocky and rough terrain. With their perfect ergonomic design, they provide support, sure-footedness, comfort and a dry, warm foot when hiking or trekking under all conditions. The range extends from sturdy winter boots to sporty active trail shoes or comfortable shoes for the evening at the mountain hut.
Varied equipment and responsible behaviour at Jack Wolfskin
Jack Wolfskin's portfolio includes numerous variants of backpacks for hiking and day-long expeditions. Compact daypacks with optimally divided compartments offer sufficient space for your equipment on the weekend tour or for office utensils and your notebook. In addition, versatile luggage makes everyday life and the way to the holiday regions easier. The excellent sleeping bags and tents with the necessary accessories take up a large part of the range.
Sustainable, social action and fairness are among the principles at Jack Wolfskin. As a member of the independent Fair Wear Foundation (FWF), the company ensures that high standards are maintained in production. Continuous controls of its own production and of its suppliers contribute to this. The brand completely dispenses with down from stuffed mast and live plucking. It rejects the use of real fur and undergoes regular inspections in coordination with animal welfare. Since 2011, the Jack Wolfskin label has been an official bluedesign partner. Within this framework, it aims to completely eliminate the emission of environmentally harmful or harmful chemicals within a few years.